MASH TL-4 Crash-Tested System
Noise Walls - Crash-Tested Barriers
Crash-tested to real-life impacts, the integrated precast concrete crash railing stabilizes box trucks in a collision.
Durisol's MASH TL-4 System is a modular, ground-mounted absorptive noise barrier system. The MASH TL-4 is host to an integrated precast concrete crash railing and an inertial impact panel to stabilize box trucks in collisions. Our system has been successfully tested under MASH (Manual for Assessing Safety Hardware) TL-4 conditions, proving its ability to hold up when needed most and not fail in real world scenarios.
The MASH TL-4 wall system is completely customizable to the site demands. Our design, engineering and project teams will work as an extension of your team to deliver industry-leading safety & noise protection.
NOISE REDUCTION
Durisol's double sided absorptive panels alleviate noise concerns and prevent reverberation.
CRASH-TESTED
A barrier system proven to withstand MASH TL-4 impact loads.
ADDED SAFETY
Inertial impact panel protects the wall and stabilizes trucks while the additional precast concrete panel provides another layer of safety.
EASY INSTALL
Our lightweight system and modular design require minimal installation equipment and crew.
CUSTOM FINISHES
Panels come in a variety of architectural textures, patterns and colors, as well as necessary accessories.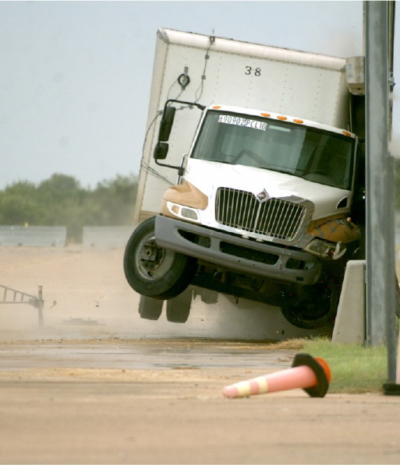 Want to learn more?
Click here to sign up for a Lunch & Learn and gain additional insights on the importance of crash-testing.