Montreal, Quebec
Station Jean-R.-Marcotte is a wastewater treatment plant located on the eastern tip of the island of Montréal, Quebec, Canada. In this Design-Build project with GE Grid Solutions Canada, Durisol provided 4 Firestop System walls at a height of up to 8m.
The firewalls separate the 3 transformers on site and provide protection to the adjacent building by preventing any potential spread in the case a transmission fire was to occur.
The decision to use the Durisol fire-rated wall system was due primarily to the cost-savings as compared to a cast-in-place concrete wall.
Our system also offered the added benefit of noise reduction, which standard concrete cannot. At a noise absorption rate of a minimum of .70 NRC (Noise Coefficient Reduction) on both sides of the walls, the noise from the transformers would be significantly reduced.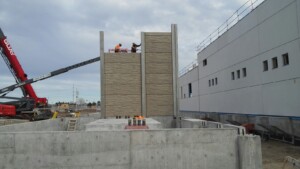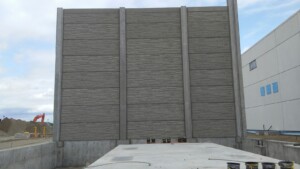 Project Details
CLIENT
GE GRID SOLUTIONS CANADA
CONTRACTORS
Cegerco (Phase 1),  Dawco (Phase 2)
Submit your information to us by filling out the below form – one of our local sales people will get in touch within 24 hours to learn more about your project!
[contact-form-7 id="109" title="Get a Quote"]