Modernize the I-75
Project Team
Owner: Michigan DOT
Engineer: Walsh/Toebe JV
Installation: Parsons

Modernize the I-75
Transportation – Oakland County, Michigan
As progress continues on the I-75 Modernization Project within Oakland County, Michigan, the MDOT's Segment Two of the massive interstate highway widening and upgrading project is nearing the expected completion date and on track for November 2020.
As part of the reconstruction of the southbound lanes on the I-75, two-parallel noise absorptive walls were determined as per the Traffic Noise Modelling Software (TMN) which is used to determine noise wall feasibility.
With the extensive experience the contractor has had with Durisol on past projects within other parts of the States, the Walsh/Toebe Joint Venture was confident when calling in our team to the design-build table.
While it was our first design and supply opportunity with MDOT, it was also their first-ever absorptive wall. By involving our team early-on in the project, they were able to leverage our complete in-house design capabilities to best optimize the noise walls.
From budget to delivery, Durisol worked with Walsh and Parsons to maximize every angle of the noise walls. A proven post and panel design was utilized from our available inventory. And while different from the other reflective systems on the project, the precast concrete posts, large-format single-sided absorptive Durisol panels, and custom retaining panels kept production efficient and cost effective.
The walls also required a custom brick pattern on both sides of the wall, as well as custom icon panels spaced along the wall. The icon or "accent" panels had a special aesthetic treatment using 8×8" stones to create a rectangular border.
This project will set a template and quality standard for future MDOT absorptive projects. When finished, it will have an attractive multi-tone brick pattern on both the absorptive roadway side and reflective residential side.
Project Details
Panels were painted to create the true, multi-tone brick color scheme seen today.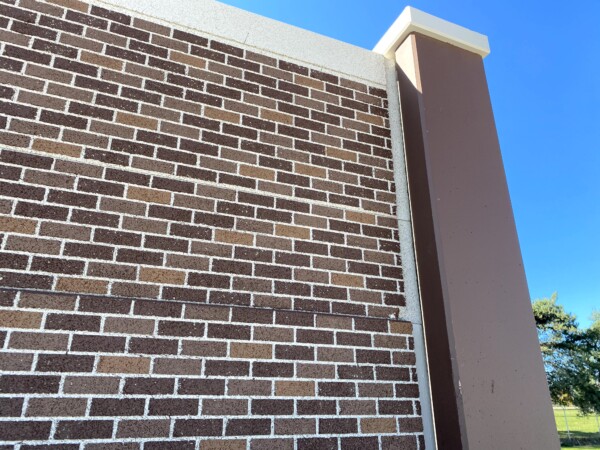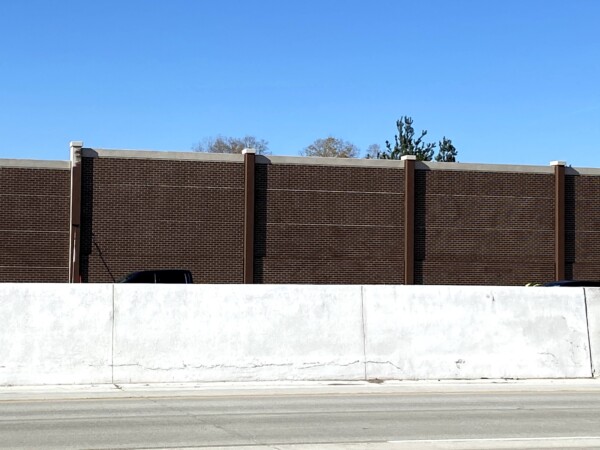 Project Team
OWNER: Michigan DOT
GENERAL CONTRACTOR: Walsh/Toebe JV
ENGINEER: Parsons