New views for Highway 401 overpass
Project Team
Owner: MTO
Contractor: R.W. Tomlinson
Installer: Hughson Group

New views for Highway 401 overpass
Transparent – Cornwall, Ontario
After conducting a review of Highway 401 overpasses, the Ministry of Transportation of Ontario (MTO) determined that the two three-span overpasses over Pitt Street were approaching the end of their service life and required replacement.
Views from all sides
Enabling views for both the eastbound and westbound lanes of overpass traffic, the existing Durisol® precast concrete sound-absorbing panels were replaced with the ACRYLITE SoundStop® transparent TL-4 System.
Crash-tested Peace-of-Mind
The TL-4 Crash-Tested Barrier System is structure-mounted to bridges and overpasses. Proven to stabilize a vehicle upon impact and reduce the severity of vehicle accidents, this system is frequently used by the MTO for the added safety benefits provided.
Reduce and Reuse.
The original Durisol panels were repurposed along the remaining noise wall expansion, creating even more noise mitigation coverage.
Our Partners
Installed in a matter of weeks by our partners at Hughson, the typical 2.44m TL-4 system panels had a height of 5m to match the existing overpass wall height.
Since 2019, Hughson has now successfully installed a total of 1,285m2 of Durisol® precast concrete sound-absorbing panels and 296m2 of ACRYLITE SoundStop® TL-4 System on the Westbound and Eastbound overpass.
The project wrapped up Winter 2020.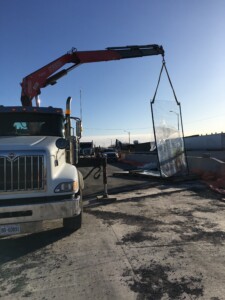 Project Team
 OWNER: MTO
CONTRACTOR: R.W. Tomlinson
INSTALLER: Hughson Group