Pont de Québec
Project Team
MAÎTRE D'OUVRAGE: Ministre du Transport du Québec
ENTREPRENEUR: EDM Construction

Pont de Québec
Transportation – Québec
The Quebec Bridge, which extends over the St. Lawrence River from Sainte-Foy to Lévis, is currently the longest cantilever bridge in the world. Opened in 1914, the bridge supports road, rail and pedestrian traffic. However, in 2010, due to neglected repair work, the Quebec Bridge was placed on a list of 10 most threatened historic sites in Canada. Corrosion forced the Department of Transport to replace the guards on either side of the bridge bridge with steel panels to strengthen the integrity of the structure.
In the first phase of construction, steel panels were installed along the bridge on the west side of the bridge. However, these steel panels have been the subject of much criticism. The opaque panels 1.80 meters high completely obstruct the view of the river and the magnificent panoramas for motorists and pedestrians. After strong public discontent, it was agreed that transparent panels would be used in the second phase of construction to address these concerns. Durisol/BPDR is proud to have been chosen as the designer and supplier of transparent panels "ACRYLITE Soundstop" for this historic structure that is the Quebec Bridge.
Project Details
Les panneaux d'écran antibruit GS CC ''ACRYLITE Soundstop'' présentent des filaments de polyamide intégrés. Ces panneaux sont généralement utilisés pour les écrans antibruit montés sur structure. Les filaments de polyamide intégrés permettent la rétention des fragments, ce qui aide à maintenir les panneaux intacts lors de l'impact d'une collision. En cas d'impact par un véhicule, les filaments de polyamide intégrés maintiennent l'intégrité des panneaux et empêchent les fragments de tomber.
Durisol/BPDR est honorée d'avoir eu l'occasion de fournir une solution utile à la préservation de l'héritage pour répondre aux nombreux critères du client.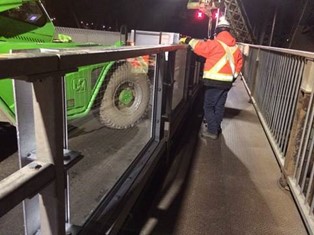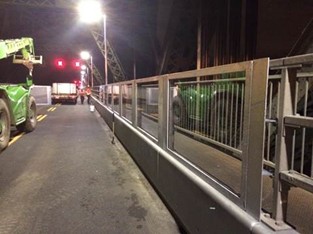 Project Team
MAÎTRE D'OUVRAGE: Ministre du Transport du Québec
ENTREPRENEUR: EDM Construction