Unique Engineering Principles for Hybrid Retaining Wall
Project Team
Owner: Metro
Contractor: Pomerleau & Graham Construction
Engineer: Stantec & Terraprobe
Installer: Structure Shoring Inc.

Unique Engineering Principles for Hybrid Retaining Wall
Industrial – Etobicoke, Ontario
The Metro Distribution Centre in Etobicoke, Ontario, was expanding its footprint onto an adjacent yard.
A new retaining wall was required 4.5 metres behind the existing 40+ year wall to accommodate the new truck loading dock and increased parking space area for the facility.
Building up.
The purpose of the new wall, while primarily was to retain the earth, the ultimate goal of the new retaining wall system was to extend the height of the existing retaining wall with minimal increases to the load.
This would take some careful engineering on the part of the Durisol in-house engineering team, led by Boris Karanfilovski.
The owner was originally considering a cast-in-place concrete wall, this would have proved challenging due to the depth required and the high-water table of the site. It was also a more costly wall option.
"Our involvement early-on allowed us to prescribe the best possible retaining solution for the client. We designed a retaining system in combination with an MSE wall", explained Boris.
A hybrid retaining system.
More precisely, the hybrid retaining wall system was 88 metres of the wall was a Mechanically Stabilized Earth (MSE) retaining wall. This portion of the wall is a hybrid retaining panel system. The hybrid retaining panel system consists of concrete facing panels, installed between steel posts and 3-metre-long soil reinforcement (Tenax geogrid) at every 500mm spacing.
A Lightweight Cantilevered Retaining Wall.
The additional 40 metre cantilevered retaining wall used EPS (Expanded Polystyrene) backfill. Part of the backfill behind the concrete panels is replaced with EPS blocks, to reduce the load on the existing retaining wall. The EPS blocks are installed on top of native soil at 2:1 slope, so the total load on the wall facing is significantly reduced.
A Visual Screen.
A total wall length of 128 metres and an added height of 1.2 metre high noise wall was installed integral to the retaining wall structure.
This noise wall will not only mitigate noise levels from the truck loading dock, but it also serves the unique purpose of a visual screen from truck lights. A sort of "tunnel effect" would be created from trucks the yard on the other side of the road below (Vickers road). For this reason, the specified wall height will prevent any visual impairments to drivers below by blocking the shining lights at night.
The unique geotechnical engineering challenges were an opportunity for our team to shine. "In addition to a retaining wall system that met all of the criteria of the challenging site conditions, we were able to offer a dramatic cost-savings to the customer by engaging our in-house engineering and expertise during the bid process where we had the greatest opportunity," explained John Broadhead, Senior Sales Leader, Durisol.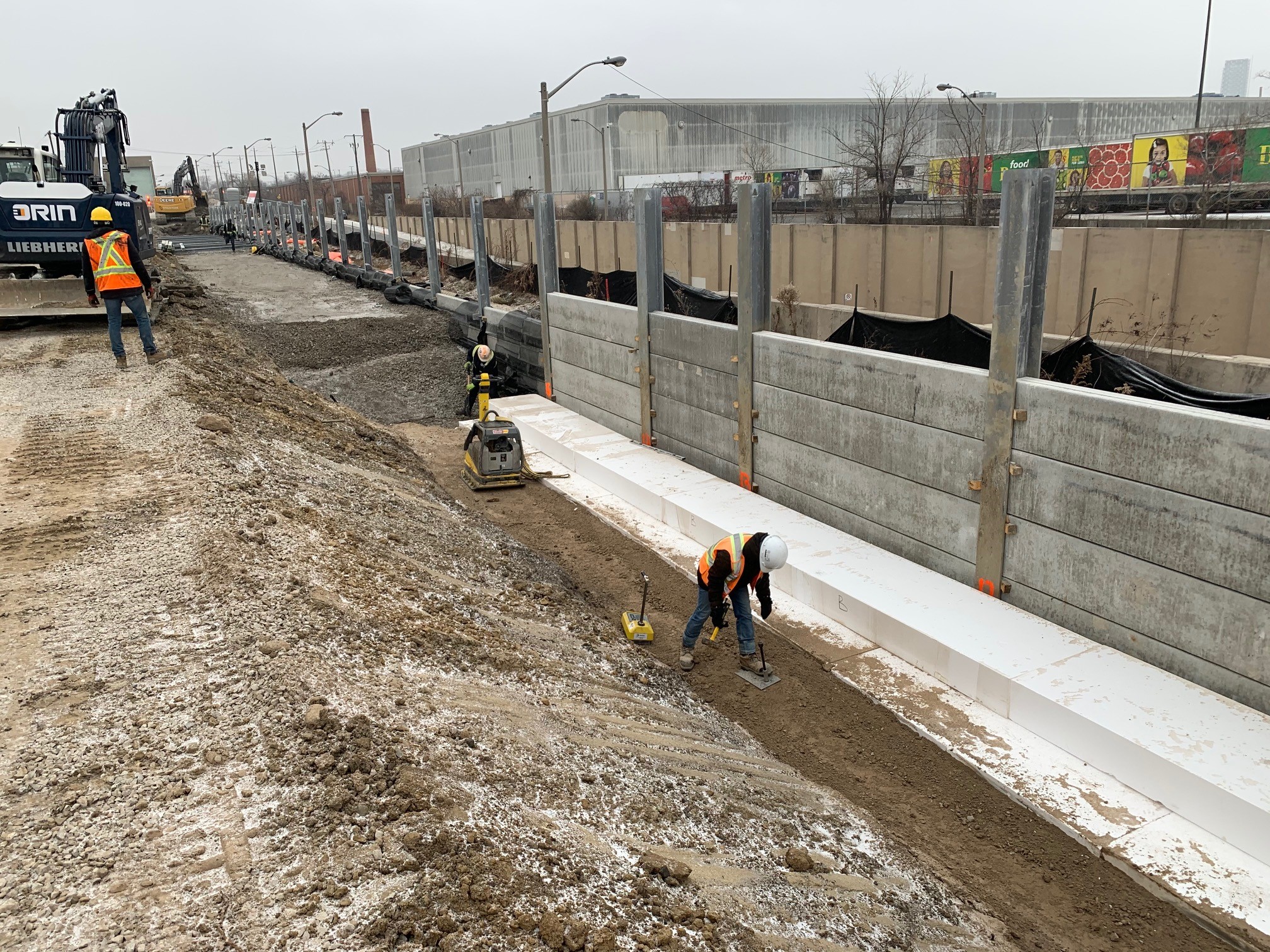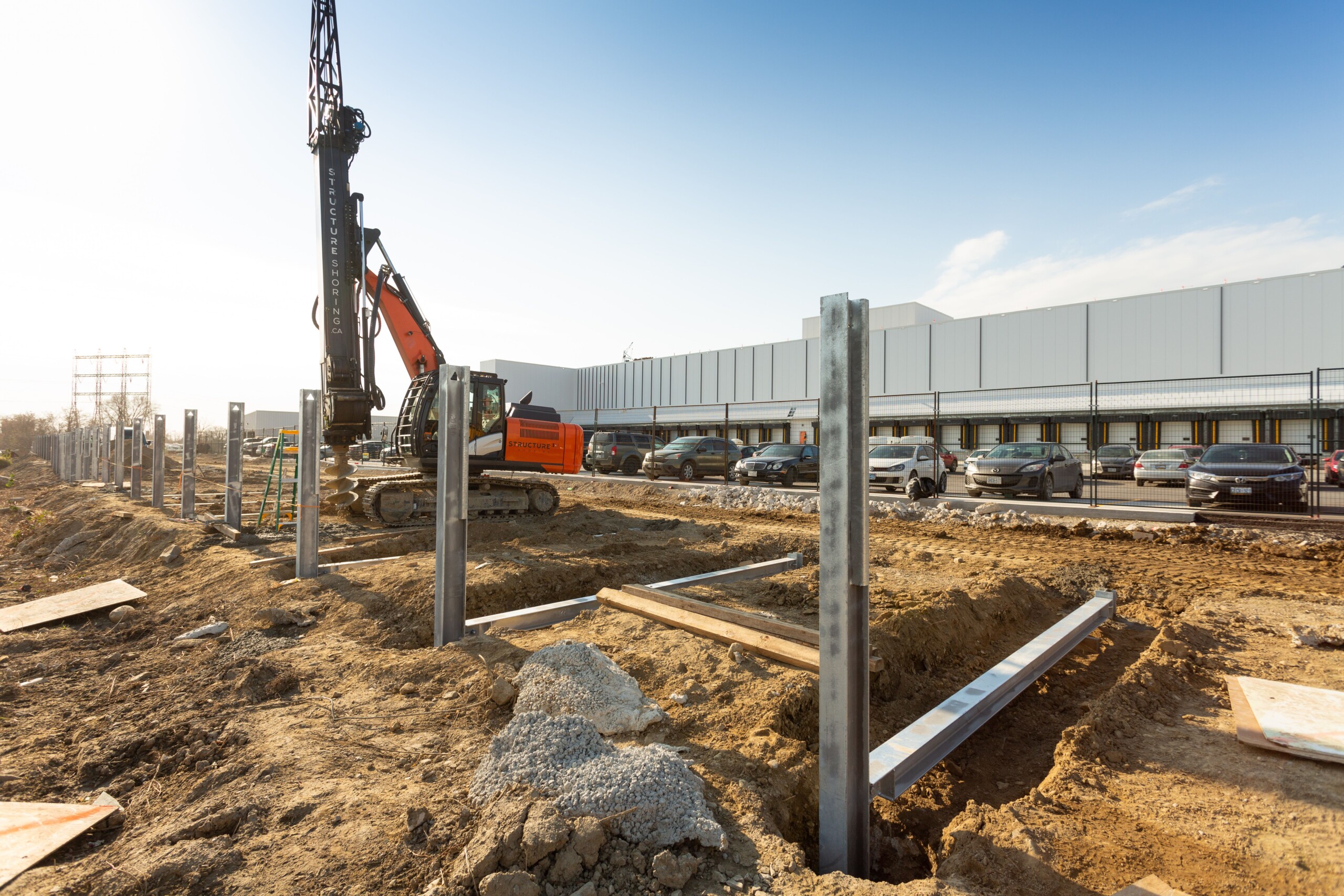 Project Team
OWNER: Metro
CONTRACTORS: Pomerleau & Graham Construction
ENGINEERS: Stantec & Terraprobe
INSTALLER: Structure Shoring Inc
Testimonial
"The design and sales process was streamlined and easy to understand. The ability for Durisol to give budgets quickly is a huge help and allowed us to be first to the table ultimately winning the project. Throughout the installation of these two projects, the project management support was extremely helpful for the challenging design. Metro, our client is also very happy with the costing and overall solutions we provided them."
Tom Henderson, President, Structure Shoring Inc.,