Project Team
Owner: Township of Oro-Medonte
Engineer: CMT Engineering
General Contractor: Todd Brothers Contracting Limited
Solutions: Retaining Wall
Sectors: Transportation

A Retain-A-Rock Upgrade
Transportation – Bridges & Culverts – Oro-Medonte, Ontario
The Township of Oro-Medonte needed an upgrade from their existing retaining wall system.
The Township saw the many advantages of using the Retain-A-Rock (RAR) wall system:
RAR block units are larger is size, requiring fewer lifts on site for placement. This allows for an expedited installation and associated cost savings.
While Mechanically Stabilized Earth (MSE) geogrid is required for use with RAR, the geogrid tabs are already integral to the blocks.
The RAR block units are supplied with a pattern on the exposed face of the block units, providing a more aesthetically pleasing finished wall system.
Project Details
Construction began with removal of an existing 2.1m span concrete culvert below the roadway making way for a new 3.3m polymer-laminated corrugated steel pipe culvert, new concrete headwalls and MSE retaining wing walls with integral geogrid utilizing our RAR wall system. What's more, we were able complete all this just two short weeks – talk about a quick turn-around.
The new RAR wall system abuts the cast-in-place (CIP) headwalls on both sides of the roadway requiring four wingwalls; one at each quadrant of the site. While no mechanical or structural connections are required at the interface between wing walls and the headwall structures, as each structure works independently, the project did require a geogrid.
When the soil assessment results revealed the poor quality at the base of the walls, the geogrid needed to be extended 1.0m in length to compensate. This also required an adjustment to the wall height, bringing the total up to 4.5m, and 143 m2 of overall retaining block wall face.
Due to the height extensions and additional geogrid, Retain-A-Block was better suited for the project than replacing with the previous wall. While both wall systems require geogrid at these heights, the RAR geogrid tabs are already integral to the blocks.
Another time saver on the installation was the larger unit size advantage of RAR. The larger size requires fewer lifts on site for placement, allowing experienced contractors like Todd Brothers to get the job done all within a two-week installation time.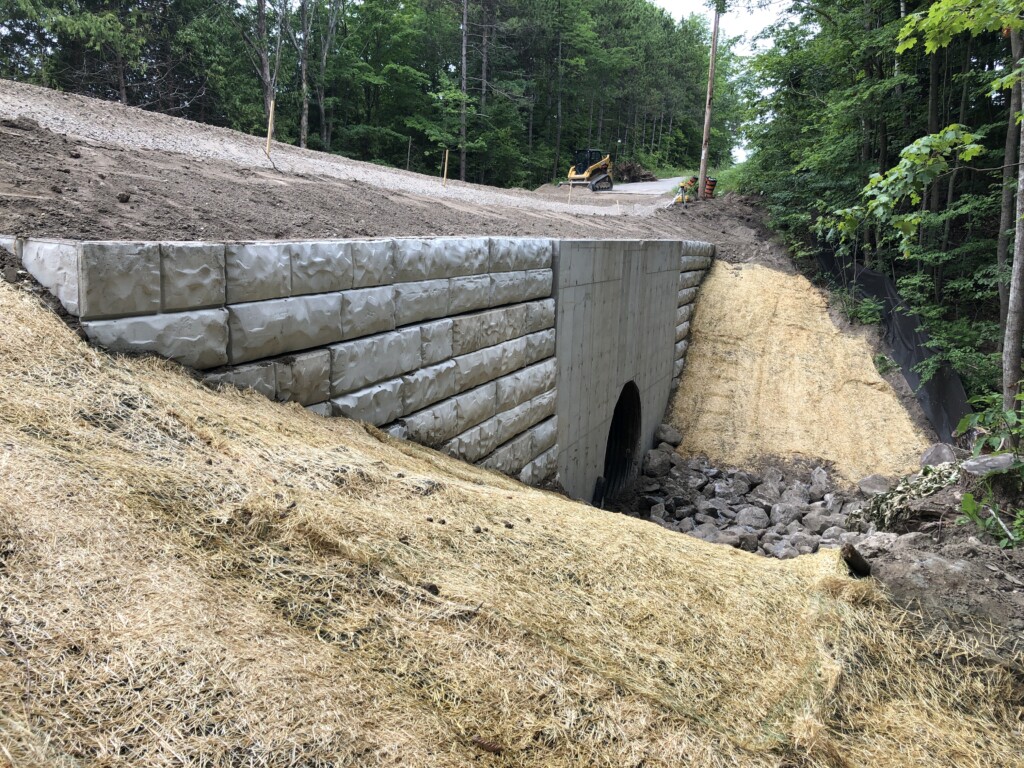 Project Team
OWNER: Township of Oro-Medonte
ENGINEER: CMT Engineering
GENERAL CONTRACTOR: Todd Brothers Contracting Limited