Strathroy Waste Transfer Station
Strathroy-Caradoc, ON, Canada
Project Team
Owner: The Corporation of the Municipality of Strathroy-Caradoc

Strathroy Waste Transfer Station
Industrial – Public Facilities – Strathroy-Caradoc, Ontario
The expansion of the waste transfer facility for The Corporation of the Municipality of Strathroy-Caradoc required the installation of an engineered, precast retaining system that was low maintenance, durable, and would keep the public safe when in operation.
Upon completion of the project, the municipality was extremely pleased with their precast retaining wall system and issued Design Concrete a letter of recommendation stating that they were "…pleased with the design, strength and maintenance free curb appeal that the wall has provided."
Project Details
The foundation base was cut, leveled, and compacted for the base course layer per the engineered design requirements.
The first course of blocks was then placed on the compacted base with the installation crew checking to ensure the blocks were properly level before moving onto the second course.
Once the complete base course had been installed and filled the second course was lifted into place and aligned for proper batter using the lifting rings of the lower course to aide in the placements. The blocks were then filled with aggregates per the engineered drawings to fill the voids before the next course was installed.
After the bottom two courses were installed the general contractor then commenced with backfilling and compacting the site prior to the third and final course being installed. Care was taken to ensure the equipment was kept the recommended distances from the wall.
The third and final course of blocks was then placed, in-fill installed and all final backfilling and compacting completed. The third course blocks also had cast in place steel plates for mounting the required safety guide rails to top of the wall. The rails would be welded to the plates to finish the installation.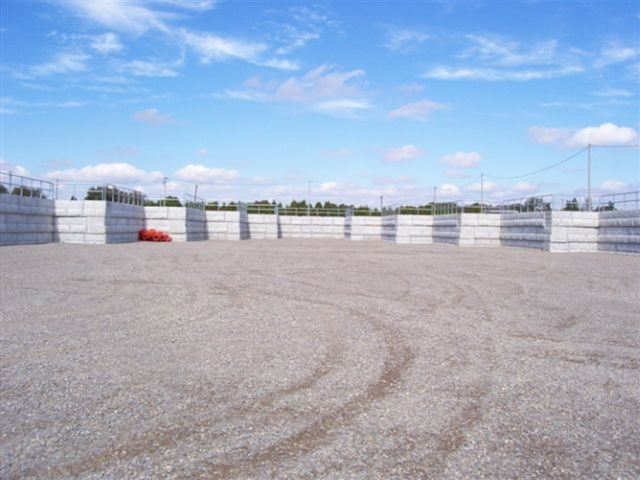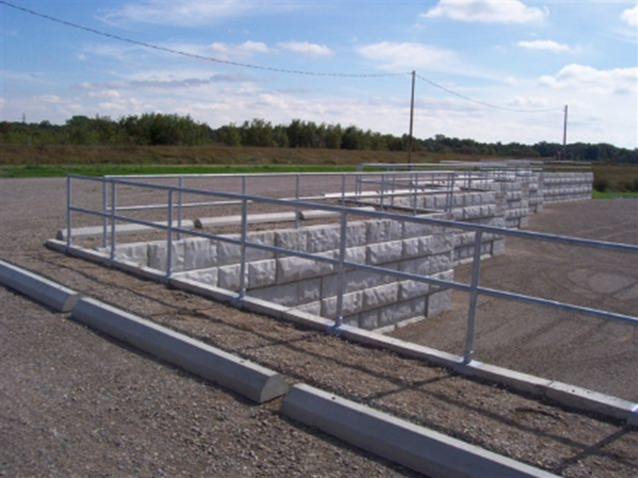 Project Team
OWNER: The Corporation of the Municipality of Strathroy-Caradoc